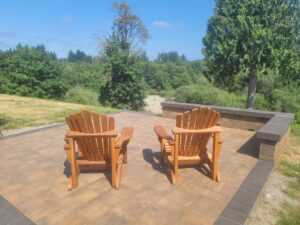 Let's Plan Your Personalized Landscaping Project
At Yards Done Right, we're here to help you design a unique space that fully meets your goals. Thanks to our team's diverse range of capabilities, we can personally handle virtually every aspect of your project, from transforming your backyard into a fully landscaped destination to professional lawn care. You will always be working with our employees rather than subcontractors. This means that you can trust in the quality of the work, as every person will be familiar with your needs. While major professional landscaping projects may seem overwhelming, they don't need to be—getting started with us is as easy as filling out our form.
Work With a Company That Cares
Working with our experts means you can be confident that your team cares about your project as much as you do. Our streamlined 5-step process ensures nothing gets overlooked.
Step 1: Fill Out Our Form
For your project to come to life the way you envision it, it's important to work with a company that is a good fit for your needs. Our contact form is designed to help us understand exactly what you're looking for before beginning your professional landscaping project.
After you have filled out our form, we will connect with you within 24 business hours to confirm receipt and review any questions we may have for each other. If we are a good fit for your project, we will call you within 48 business hours to set up your consultation and collect your consultation investment.
Step 2: Onsite Consultation
We will typically schedule your onsite consultation within a week of our phone call to make sure we can begin your project as quickly as possible. This up to 1-hour consultation is when we truly begin bringing your project to life. One of our experts will meet with you on your property to listen to your ideas, offer our recommendations, discuss materials, and take measurements. Our experts have at least 5 years of residential landscape construction and maintenance experience.
During this consultation, we will be able to answer your questions and identify potential challenges in advance, meaning you can go into the project with a clear idea of what to expect. After our consultation, we will provide you with an estimate and timeline for your project. We will then collect your 25 percent deposit and sign the finalized agreement.
Step 3: Breaking Ground
We will usually begin your project within 30 days of our consultation so that you can enjoy your dream landscape as soon as possible. During these 30 days, we are wrapping up other projects so that we can give yours our full attention. Our initial project begins with a groundbreaking meeting. At your groundbreaking meeting, we will discuss the scope of work with you to ensure you aren't surprised by any challenges or costs. You will always have a detailed understanding of the project plans, timeline, and budget. If you are satisfied with these plans at your groundbreaking meeting, we will collect a 50 percent payment and begin work.
Step 4: Installation
Throughout the installation process, we will communicate our progress to you. You will have a dedicated foreman, so you can rest easy knowing there won't be any miscommunications or wires crossed. Having a dedicated point of contact makes it easy to stay informed and have any questions answered right away. Our focus during your project will be solely on your project and your landscape goals.
We want you to have a landscape that is personalized to your vision. Rather than making every decision for you, we will collaborate with you during installation to ensure the final product is exactly the way you want it. We will even go to the nursery with you to help choose and discover the plants that you prefer.
Step 5: Final Walkthrough
Once we've completed the project, we will walk through the grounds with you to show you the final results. You will have a chance to see everything before we officially finish, and we will not ask for final payment until you have personally signed off on your completed landscape.
To make sure your landscape stays beautiful, we also provide a personalized care guide to eliminate any guesswork on your part. Our maintenance services are a convenient option for keeping your new space healthy and thriving for years to come.
Providing Personalized Attention to Customers Throughout the Olympia, WA Area
How We Help Your Landscape Thrive

No two landscapes are the same, and each one deserves personalized care to continue thriving. With over a decade of experience providing professional landscaping services in the Olympia, Washington area, we know exactly what it takes to keep your space looking just the way you want it.
In addition to designing and installing your landscape, we can provide lawn care and irrigation services that are customized to your needs. If your front or back yard simply needs a little love, our yard refresh services can help you optimize the space you already have. Our experts are also available to help you design a unique outdoor living space, including walls, walkways, and other hardscaping. We can even expand your enjoyment for your landscape beyond normal daylight hours by installing LED landscape lighting with a full spectrum of color! No matter your needs, we're here to help you create a space you love with the help of these services: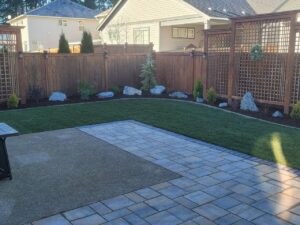 Landscape Design
Outdoor Living Spaces
Front or Back Yard Refresh
Hardscaping (walls, walkways, patios and more)
Lawn Care (weekly & bi-weekly service only)
Connect With Our Professional Landscaping Experts Today to Start Turning Your Vision Into Reality

Our simple 5-step process takes the stress out of starting your landscaping project. From the moment you send in your contact form, we will be working to meet your needs and bring your dream to life. Whether you want us to create an expansive garden filled with winding pathways or you simply want to freshen up the gorgeous space you already have, our experts will work with you to create a plan and bring your space to life. Fill out our contact form today, and we'll reach out to you to get your landscaping project started.